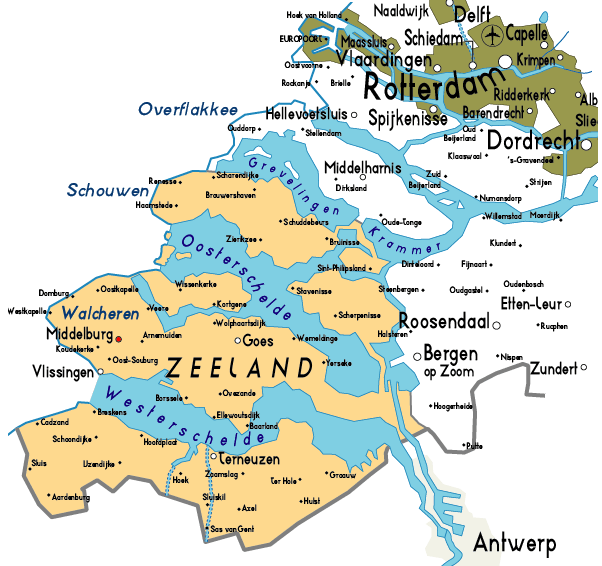 Zeeland is the westernmost province of the Netherlands. The province, located in the south-west of the country, consists of a number of islands (hence its name, meaning "sea-land") and a strip bordering Belgium.
Its capital is Middelburg.
Its area is about 2,930 km², of which almost 1,140 km² is water, and holds a population of about 380,000.
Large parts of Zeeland are below sea level.
The province of Zeeland is a large river delta situated at the mouth of several major rivers, namely Scheldt, Rhine and Maas.
After the North Sea flood of 1953 that inundated vast amounts of land, a giant infrastructure was conceived: the Delta Works.
A string of bridges, tunnels and dams that took decades to complete, reclaimed the land and forever changed the face of the province.
The coat of arms of Zeeland shows a lion half-emerged from water, and the text "luctor et emergo" (Latin for "I struggle and I emerge").
The Pacific country of New Zealand is named after Zeeland.
Most of the province lies below sea level and was reclaimed from the sea by inhabitants over time.