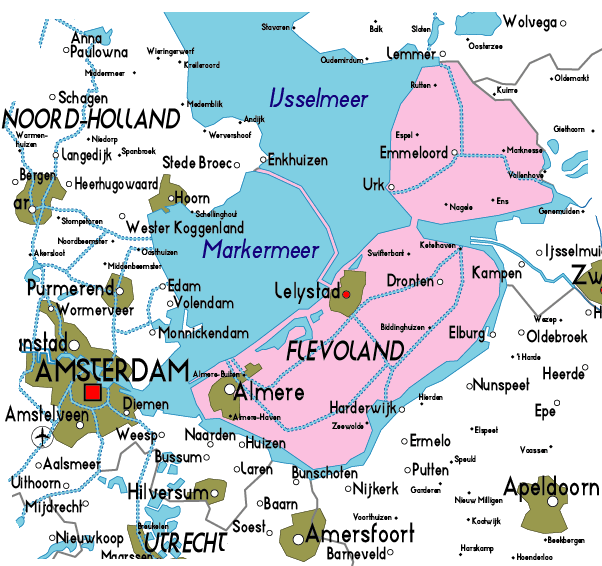 Flevoland is located in the centre of the country, at the location of the former Zuiderzee.
The province was established on 1 January 1986; the twelfth province of the country, with Lelystad as its capital.
The province has approximately 394,758 inhabitants (2011) and consists of 6 municipalities.
After a flood in 1916, it was decided that the Zuiderzee, an inland sea within the Netherlands, would be enclosed and reclaimed: the Zuiderzee Works started.
In 1932, the Afsluitdijk was completed, which closed off the sea completely.
The Zuiderzee was subsequently called IJsselmeer (lake at the end of the river IJssel).
A new element in the design of Eastern Flevoland is the larger city Lelystad (1966), named after Cornelis Lely, the man who had played a crucial role in designing and realising the Zuiderzee Works.
Other more conventional settlements already existed by then; Dronten, the major local town, was founded in 1962, followed by two smaller satellite villages, Swifterbant and Biddinghuizen, in 1963.